The Cantus magazine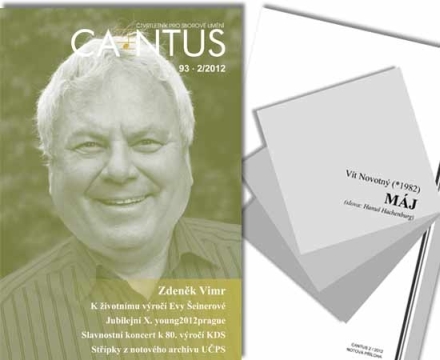 The Czech Choirs Association publishes a specialist and social-life magazine called Cantus. It is a quarterly published in Czech and it brings the subscribers information about upcoming projects and festivals, reports, reviews of concerts and recordings, interviews with choirmasters, portraits of choirs, studies and contributions concerning interpretation and technique of choir conducting, surveys of realized concert performancens as well as a regular sheet music supplement.

Member choirs of the Association get a free copy. Annual subscription for 200 CZK (Czech Republic) or 400 (abroad) can be got via the Association Secretariat.

We thank the Ministry of Culture of the Czech Republic and the Czech Musical Foundation for support.
Editor of the Cantus magazine
Mgr. Miloslav Samek - editor-in-chief
Masarykovo nábřeží 16
110 00 Praha 1
Czech republic
www: www.cantus.eu
e-mail: cantus@ucps.cz

Subscription is managed by the Secretary of the Czech Choirs Association (Office) via e-mail: sekretariat@ucps.cz
ISSN 1210-7956 • MIC 46 202 • MK ČR E 5 269